---
Extrainsatt program:
Fredag 13 augusti kl 17–20, i gästateljén på Malongen, Nytorget 15.
Screening: Spirits in Exile by Heidi Sincuba and Megan Curet
Exhibition and artist talk: Lefifi Tladi
Heidi Sincuba is an artist in residence at the NKF guest studio apartment Malongen in Stockholm, invited by Candyland. For this public event she has invited Megan Curet who is a Puerto Rican American Bronx native performer, choreographer, and educator. Curet's works draw on Afro-Latin rhythm and movement through mixed media, text, and contemporary dance forms. Through their reading group, which consists of several black women PhD candidates and is based on the work of black feminist Sylvia Winter, they found a common research interest in the nuanced rhythms of the African drum on the continent and its diaspora.
By inviting Curet to collaborate during this residency, Sincuba not only wanted to further their conversation but also use the conversation as part of their research. The collaboration which will be screened on the 13th of August 2021 will include performances, which operate as a dialogue between the two practitioners. This way of working is fluid and generative and is an experiment in using practice as research.
See also http://megancuret.com
Organised by Sincuba, Malongen will also host an exhibition by Lefifi Tladi who will give an artist talk at 6pm. The exhibition constitutes an introduction to the intergenerational dialogue between these two South African abstractionist painters currently working in Stockholm. In the first part, Lefifi Tladi presents paintings in the context of this dialogue which centers around spirits in exile or suspended spirits. It explores the connections between spirituality and abstraction as well as how time and space affect this dynamic.
Lefifi Tladi was born at Lady Selborne, Pretoria in 1949. Tladi is an artist, poet, and jazz singer. Most of Lefifi Tladi's artwork was created in Sweden because this is where Tladi was in exile.
---
21.5–22.8 2021
Alexandra Skarp
Second Being
Sommarutställning i galleriet.
Utställningen i gallerirummet och Candylands nya skyltskåp kan ses från gatan, dygnet runt, tom söndag 22 augusti.
Vernissage fredag 21 maj kl 17–21.
Livestreamad musik med Akoasm (Erik Huldt, Mattias Larson och Gustav Sandblad) vid 20-tiden.
Gotlandsgatan 76, Stockholm. Buss 3 och 76 till Gotlandsgatan eller tunnelbana till Skanstull.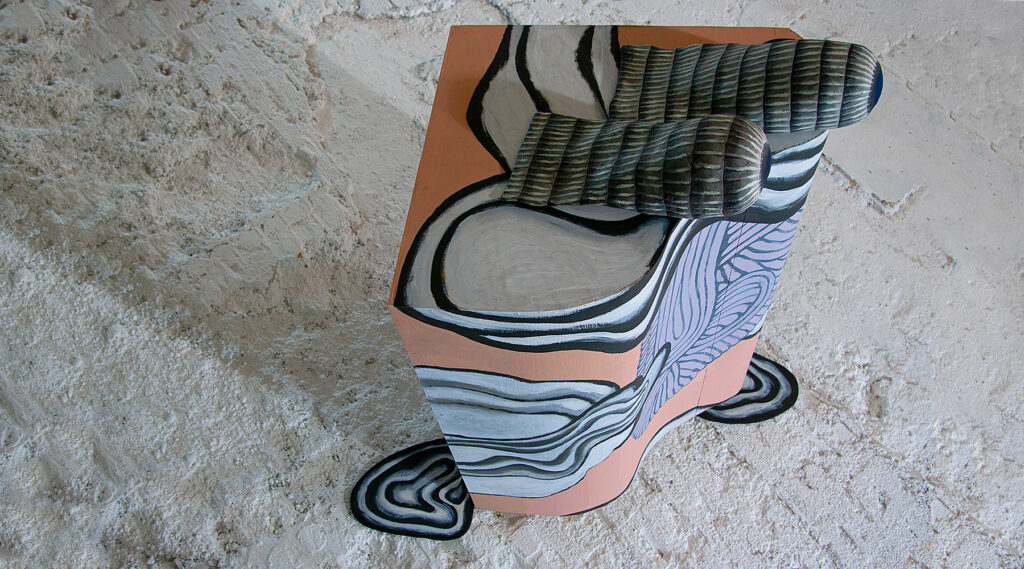 Second Being
Candylands sommarutställning "Second Being" av Alexandra Skarp består av formationer och skulpturala målningar. Skulpturerna som fyller rummet utgör en helhet, en egen värld av existenser med egna personligheter. De förefaller vänta, storögt mottagliga, där de står ihopträngda i rummet.
Installationen "Being" visades hösten 2020 i den stora poolen på ValstaKonst – en plats för samtidskonst i en nedlagd simhall i Valsta, Sigtuna.
Alexandra Skarp arbetar med måleri och skulptur, ofta i kombination. Ett konstant pendlande mellan tvådimensionellt måleri och tredimensionella former kan ses som ett signum för Skarp och hennes verk tenderar ofta att befinna sig i en slags mellanvärld. Skarp tar gärna avstamp i rumsliga förutsättningar för att under arbetets gång skapa platsspecifika installationer. Processen börjar oftast i måleriet, som under arbetets gång, växer till skulpturer vilka sedan tar rummet i besittning på varierande sätt. Verken kan ge intryck av att de har vuxit fram, hällts ut, eller vikts ut på plats vilket skapar en aktiv dialog mellan två dimensioner respektive tre dimensioner. Denna dialog tycks även kommunicera med ögats sökande och betraktarens logik var för sig, för att slutligen harmoniera i en syntes.
Alexandra Skarp är utbildad vid Staatliche Akademie der Bildenden Künste, Stuttgart och Konstfack MFA. Skarp arbetar med måleri, skulptur och prints, och har haft separatutställningar på bland andra ValstaKonst, Bildmuseet i Umeå, Örebro konsthall, Konstnärshusets Stora galleri och arbetar inför en kommande separatutställning på Galleri Eva Solin (september 2021).
Skarp har också medverkat i grupputställningar på bland annat 4th Tanhualin Guanlan International Print Biennial, i Guanlan och Wuhan, Kina; A.I.R. gallery, Brooklyn, New York; <top Schillerpalais, Berlin; Centrala Art Space, Birmingham och Uppsala konstmuseum.
Alexandra Skarp är inbjuden av Andreas Ribbung, andreas[at]candyland.se, 0703365862.
PRESSBILDER