Vernissage fredag 23 oktober 2015 kl 17–22
Performance ca kl 20: Micke Reuter läser dramatiska, vådliga och närmast upprörande texter om livet. Reuter spelar även musik till dansant eftertanke hela kvällen. Ingen förblir oberörd.
Öppet fredag–söndag kl 13–16, t.om. söndag 8 november.
Gotlandsgatan 76, Stockholm. Buss 3 och 76 till Gotlandsgatan eller tunnelbana till Skanstull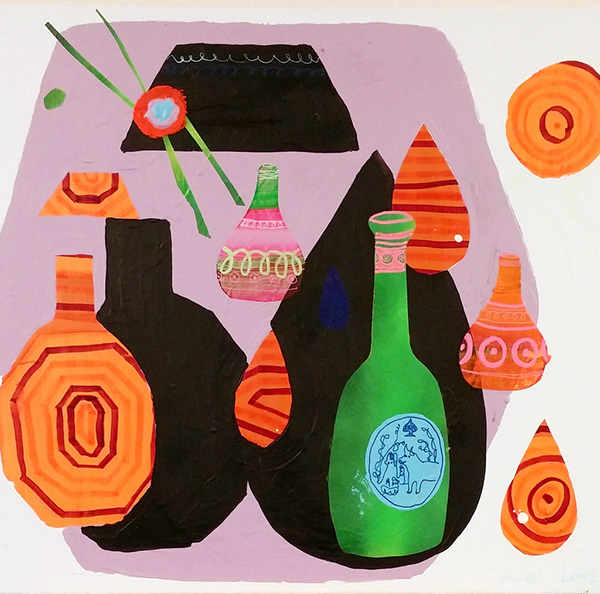 When Stella Bergström and Helgi Þórsson met by coincident in the Kastrup lounge, little did they know that it would be a beginning of a long friendship and a future collaboration. This was in 2012 and now in 2015 we have their first baby so to speak, Villa Bergström.
Stella, long known for her already classic designs and Helgi, Master of Art, perhaps most known for his art manifestos (grönt, rött och svart), art philosophies and Das Katsen Musizikale to mention a few. They're so different but mix so well, its like cream cheese in a pepper, Jin and Yang, Baileys with cola, different but so perfect when they mix.
Villa Bergström is one of those great things, hard to resist and what we have seen so far is of pure genius, we can not wait to see the whole exhibition on the 23 October. Please be welcome to celebrate with us on this wonderful day (also the birthday of the Black Pearl: Pelé) and if you like to get hold on some of the work come early with cash they will be sold out fast.
Helgi Þórsson har varit artist in residence på Nordiska konstförbundets gästateljé i Malongen under oktober månad. Helgi Þórsson är född 1975 i Reykjavík men bor för tillfället i den Haag, Nederländerna. Han är utbildad vid Gerrit Rietveld Academie och tog sin master vid Sandberg Instituut i Amsterdam. Han har ställt ut på bland annat Living Art Museum och Kling & Bang i Reykjavík, Tidens Krav i Oslo och Galerie van Gelder i Amsterdam. Han var en av konstnärerna bakom det konstnärsdrivna galleriet Kunstschlager i Reykjavík. Hans verk har visats i Stockholm på Supermarket 2013 och utställningen "Kunstschlager på ratten" på Studio 44 i våras.
Helgi Þórsson är även musiker med bakgrund i grupperna Stilluppsteypa och Evil Madness, samt duon Alien UFO, med Runar Magnusson.
Helgi Þórsson är inbjuden av Andreas Ribbung
Tack till Nordiska Konstförbundet svenska sektionen. www.nkfsweden.org