Vernissage fredag 3 september kl 17–21.30 (därefter Street Karaoke)
Artist talk med fika söndag 12 september kl 13

Gotlandsgatan 76, Stockholm. Buss 3 och 76 till Gotlandsgatan eller tunnelbana till Skanstull.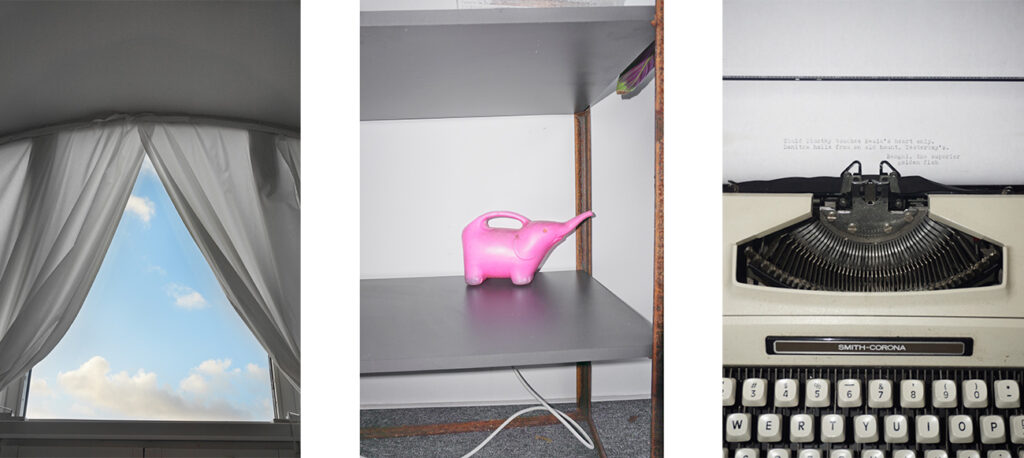 Tankar om naturen
Intresset för en samtidig känsla av kärlek och längtan efter dominans är utgångspunkten för Tankar om naturen (Thoughts on Natural History), en fotografisk undersökning av att förhålla sig till naturen genom domesticering. Projektet är inspirerat av essän The Idea of Natural History av Theodor W. Adorno där författaren brottas med uppfattningen om naturen efter modernitetens intåg och begreppet naturhistoria i sig. Ämnet är intressant med tanke på reaktioner på klimatförändringar, ekokritik och i relation till pandemier som skapats genom industriell sammanslagning av vild och domesticerad natur.
Anna Ekros, bildkonstnär specialiserad på fotografi, har en BA från Nordens Fotoskola/Biskops Arnö, en MFA från International Center of Photography/Bard Collage och en MA i Kritisk teori och konstvetenskap från School of Visual Arts i New York City. Ekros studerade Adorno med en av författarens huvudöversättare till engelska, Robert Hullot-Kentor, och erhöll en teoretisk examen för att balansera sin tidigare praktikbaserade utbildning.
Hon har ett intresse för sanning i relation till bildspråk, psykologi, perception och antropologi och är fortlöpande nyfiken på ögonblicket när kanterna på ett medium blir synliga.
Anna Ekros är inbjuden av Nadja Ekman, nadja[at]candyland.se
In English:
Thoughts on Natural History
Interested in simultaneous love and urge toward mastery, Thoughts on Natural History is a photographic investigation in relating to nature through domestication. The project is inspired by the essay 'The Idea of Natural History' by Theodor W. Adorno where the author grapples with perception of nature after modernity and the concept of natural history itself.  The topic is interesting when contemplating reactions to climate change, eco criticism and in relation to pandemics created through industrial merging of wild and domesticated nature.
Anna Ekros is a visual artist specialised in photography. She holds a BA from Nordens Fotoskola/Biskops Arnö, an MFA from International Center of Photography/Bard Collage and an MA in Critical Theory and the Arts from School of Visual Arts in New York City. Ekros studied Adorno with one of his main translators Robert Hullot-Kentor and received a theoretical degree to balance her fundamentally practice based education. She has an interest in truth in relation to imagery, psychology, perception and anthropology and is continually curious of the moment when the edges of a medium become visible.