Vernissage onsdag 10 augusti 2022 kl 17–20.
Öppet torsdag–lördag 13–16 t.o.m. 13 augusti 2022.
Gotlandsgatan 76, Stockholm. Buss 3 och 76 till Gotlandsgatan eller tunnelbana till Skanstull.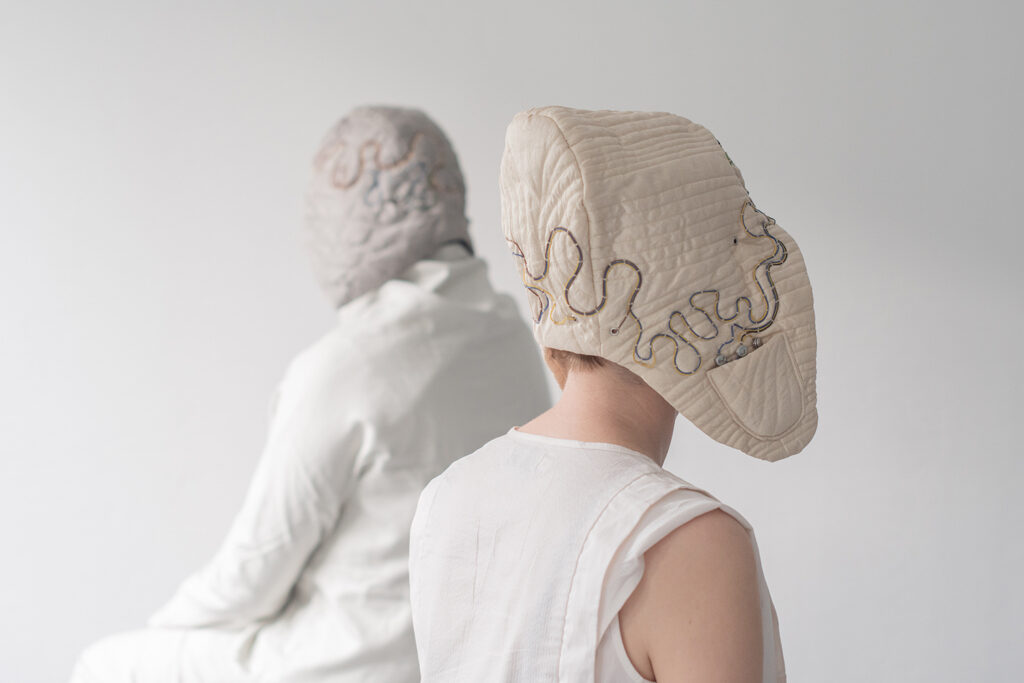 Continuing with popular imaginaries of the Future (being these utopian or dystopian) Mindaugas Gapševičius and Maria Safronova Wahlström pictures the advent of a transhuman society where the living beings of our planet all are part a greater network of interconnected entities, a mycelium of sorts, communicating, controlling, but also controlled by electricity. This Imaginarium does not stay in the realm of speculative design or science fiction though: in this exhibition, it goes a step further by offering the visitor the possibility of experiencing such interconnectivity through the use of the wearables that are exhibited in the 'You and I, You and Me' art show, which has been presented in various venues such as the Baltic Biennale, Piksel Festival in Norway, or Transmediale, in Berlin.
The phenomenon I referred to above, that of interconnecting bodies, is achieved using the various types of Wearables developed by Gapševičius and Safronova Wahlström. Among these, head wear that electrically stimulates the brain of one user, reading its patterns through electroencephalography, so to be sent to other Wi-Fi connected hats being used by another person that, simultaneously, will be informed about these electric impulses by feeling them through transcranial direct current stimulation; the two minds now communicating directly through the interface, beyond the visual or the verbal requirements of their bodies. In the exhibition we also find shoes that emit sounds through a set of headphones attached that harness the energy from the actual impact of the user's foot against the floor when walking demonstrate how we could use thermoelectric energy for reproducing audio. Or even, posing the possibility of turning ourselves into electrical generators by the use of electronic LED-jewelry that is activated upon contact with the skin and whose energy is harvested from the same body that wears them, a behavior that evokes the well-known plot of the Matrix movies. These devices are as much art works, design pieces, and techno-scientific proposals.
Finally, this exhibition allows the visitor to participate and belong to this dystopic transhuman community by trying out the different prototypes in a gesture that not only suggests that the The Future Is Now, but that the once You and I and the You and Me, that is, what we take as individual human subjects will soon be no more, as we head inevitably towards becoming a new type of communal entity: the You-as-I.
Text by Paola Torres
Guest curator: Paola Torres / Futureless Festival
Mindaugas Gapševičius and Maria Safronova Wahlström in collaboration with Helga Mogensen (jewelry), Leon Crayfish (shoe design)
Many many thanks to other contributors: Ian Erik Stewart (neuroscience consultant), Mantas Mizgiris and Simona Nakrošiūtė (jewellery), Mindaugas Miselis and Alexander Selifonov (electronics), Bon Alog (photography and video), Arūnas Baltėnas (photography), Gvidas Bindokas (video documentation), Antanas Skucas (programing), Antanas Gerlikas (installation), Živilė Etevičiūtė, Tadas Šarūnas and Johanna Glaza (models), Kamilė Krasauskaitė and Ernesta Šimkutė (curators), Taktika Studio (design), Audrius Antanavičius & Jonas Balsevičius (tech support), Marijonas Račkauskas, Karolina Valentaitė, Roberta Alksnytė (event), Tūla Kristina, Gabija Augustinavičiūtė, Eglė Skinderytė, Kamilė Laurinavičiūtė, Grėtė Ona Tvarkūnaitė, Vilma Suchockienė, Solveiga Stankevičiūtė, Ona Ringaitytė (performance) and others.
The project is supported by the Lithuanian Council for Culture, and the Nordic Council of Ministers.
Futureless Festival is an Art + Technology event happening 10–14 August 2022, in hybrid format and in various locations in Stockholm, Sweden. The festival is supported by the Swedish Arts Council and the Nordic Culture Fund.
Candyland's exhibition programme is supported by the Swedish Arts Council and City of Stockholm.
---
Under 2022, fram till valet, är Candylands utställningsprogram en del av KVADRENNALEN – plattform för samtidskonst som svar på politiskt hot. www.kvadrennalen.se #kvadrennalen